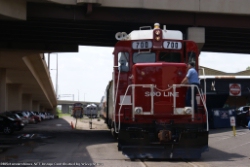 Welcome to the RRPictureArchives.NET contributor site of Wizzy Strom.



Life is like a mountain railroad, with an engineer that's brave;
We must make the run successful, from the cradle to the grave;
Watch the curves, the fills, the tunnels; never falter, never quail;
Keep your hand upon the throttle, and your eye upon the rail.



You may browse my collection of pictures via the menu located on the left hand side of the page. I hope you enjoy the collection and thanks for stopping by!
Note: This site is best viewed in Internet Explorer 6.0 or above.
Select one of the links from the menu on the left to begin browsing the collection.